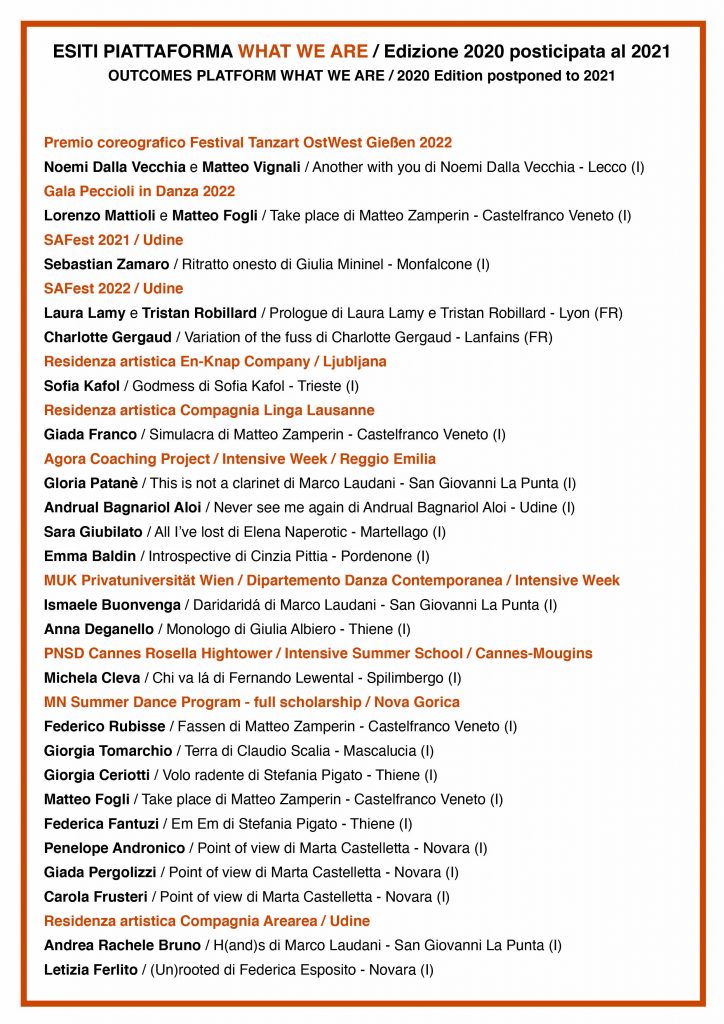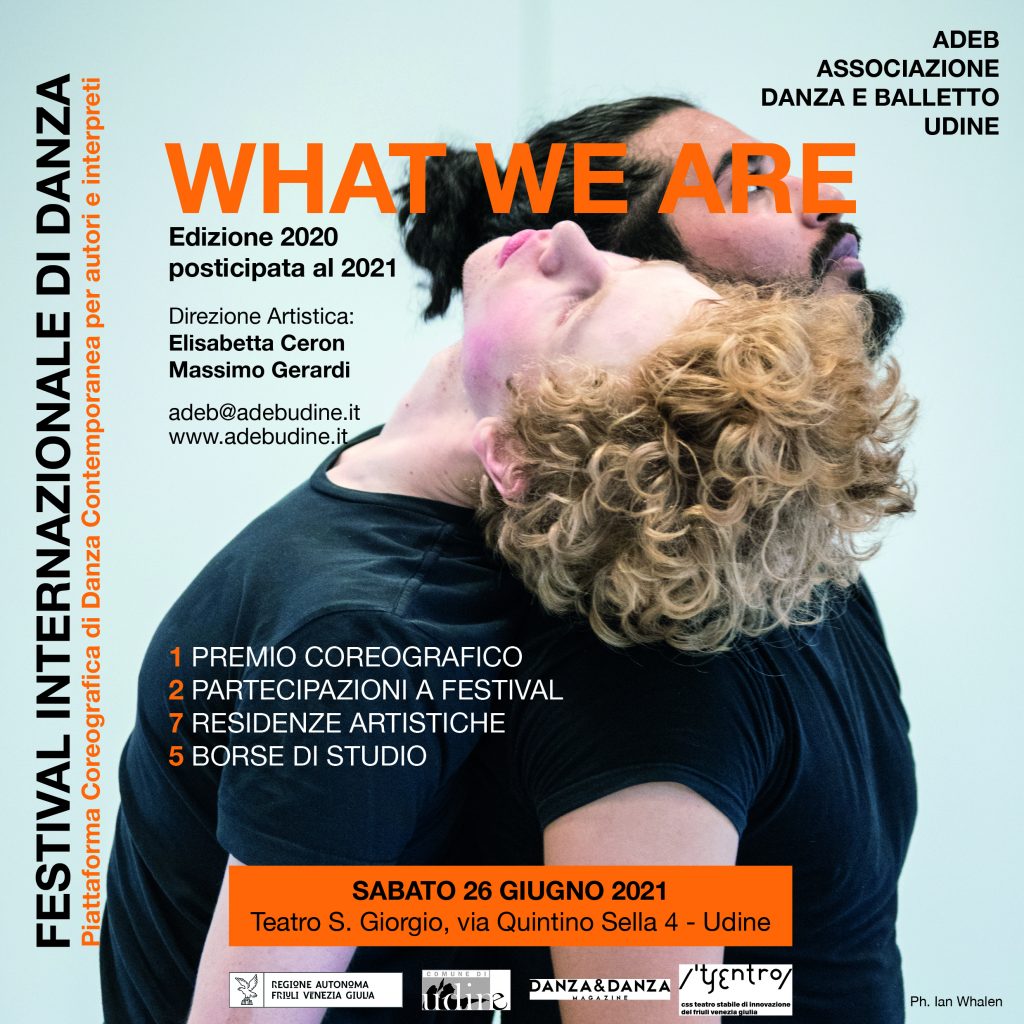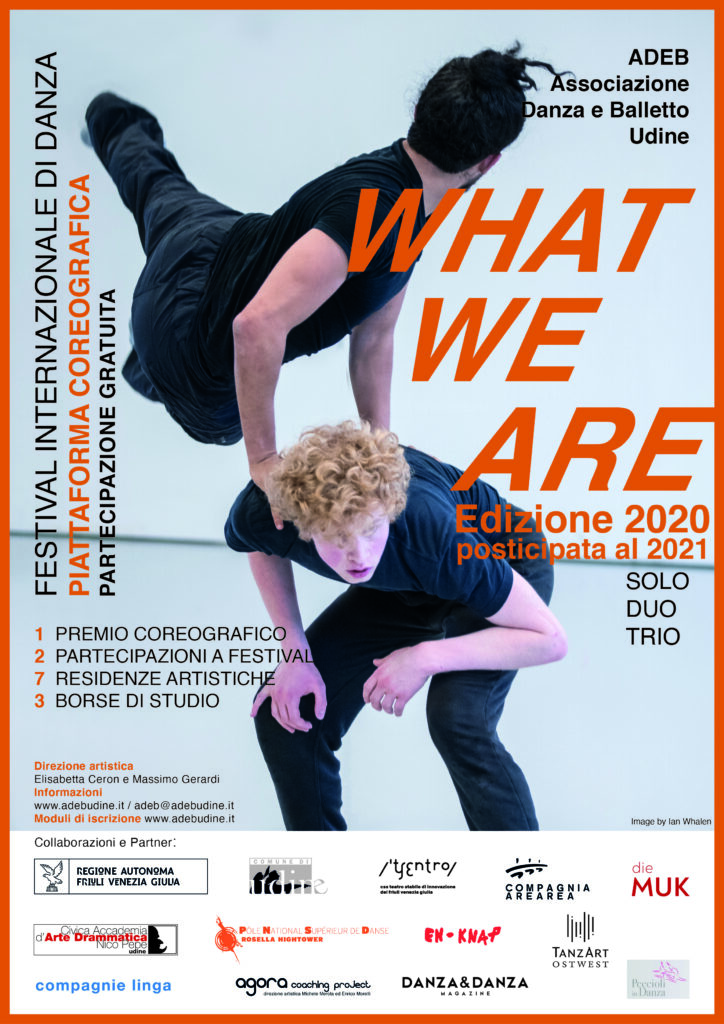 ADEB – ASSOCIAZIONE DANZA E BALLETTO
WHAT WE ARE
– edizione 2020 posticipata al 2021 – 

FESTIVAL INTERNAZIONALE DI DANZA
PIATTAFORMA COREOGRAFICA per autori e interpreti
PER SOLO / DUO / TRIO

PARTECIPAZIONE GRATUITA previo selezione candidature
Direzione Artistica: Elisabetta Ceron e Massimo Gerardi
PREMIO COREOGRAFICO, PARTECIPAZIONE A FESTIVAL, BORSE DI STUDIO e RESIDENZE ARTISTICHE PRESSO COMPAGNIE e ISTITUZIONI PROFESSIONALI INTERNAZIONALI
La DEADLINE per le candidature é il 28 FEBBRAIO 2021  p.v. A:
adeb@adebudine.it   e   m.gerardi@adebudine.it
LE COREOGRAFIE SELEZIONATE PER LA FASE FINALE ANDRANNO IN SCENA IN DATA DA DEFINIRE PRESSO IL TEATRO S. GIORGIO DI UDINE.
QUALORA SI PROTRAESSE L'EMERGENZA SANITARIA, LA FASE FINALE SARÀ GESTITA ONLINE CON MODALITÀ DA COMUNICARE IN SEGUITO.
Collaborazioni: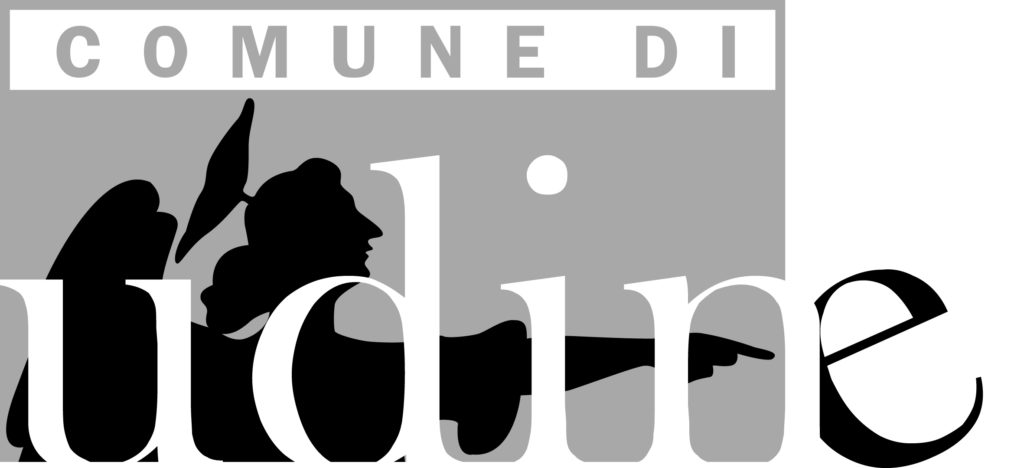 Partner:
PREMIO COREOGRAFICO
FESTIVAL TANZART OSTWEST (2021)
Trasferta con voli low-cost e soggiorno rimborsati
(la coreografia selezionata potrà essere estesa fino a 10 minuti per la presentazione al Festival)
COMPAGNIA DI DANZA TEATRO DI GIESSEN / D
Dir. Tarek Assam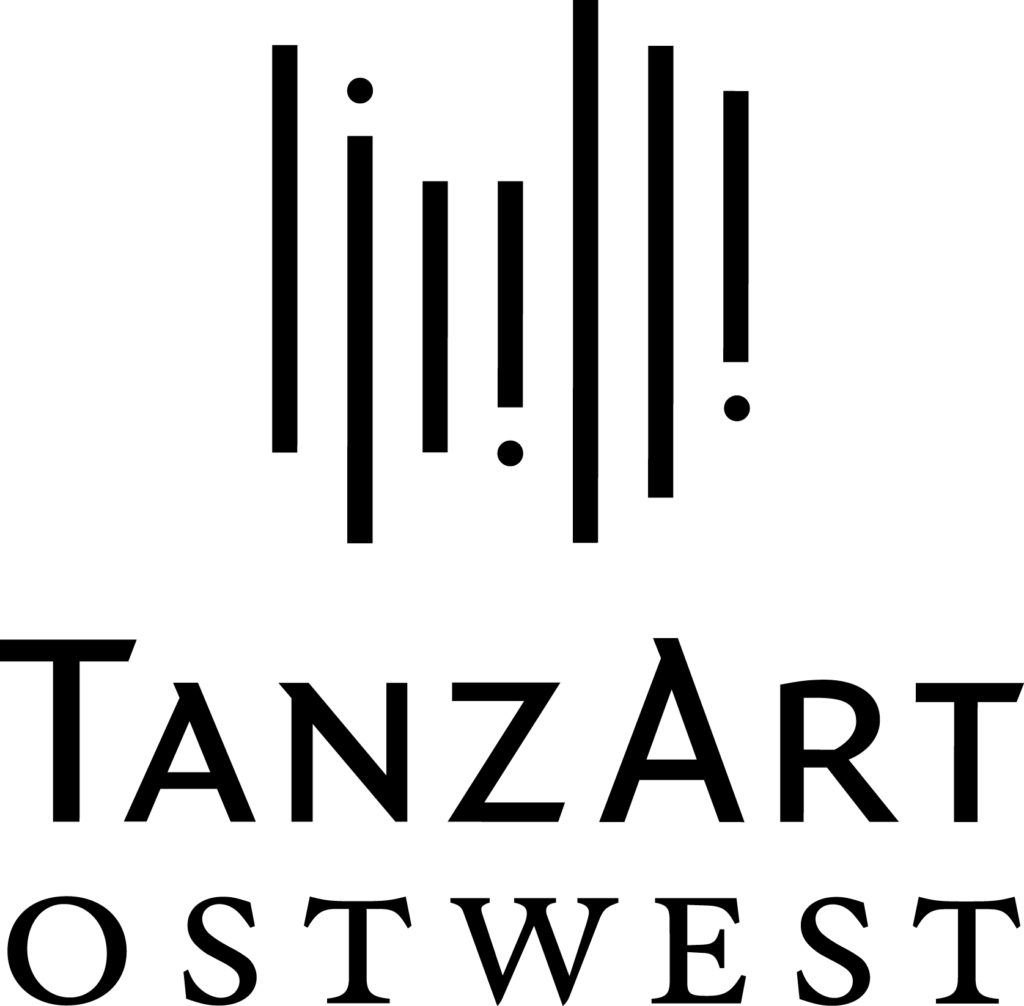 PARTECIPAZIONE A FESTIVAL
SAFest SUMMER ACADEMY FESTIVAL INTERNAZIONALE F.V.G. UDINE/I (estate 2021 e 2022)
Dir. Claudio de Maglio

GALA DI STELLE DANZANTI Anfiteatro Fonte Mazzola PECCIOLI/I
Viaggio e soggiorno rimborsati (estate 2022)
Dir. Kristian Cellini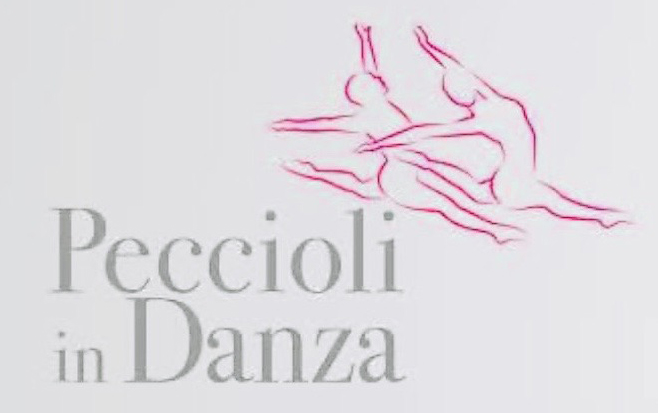 BORSE DI STUDIO
MUK PRIVATUNIVERSITÄT/DIPARTIMENTO DANZA – VIENNA/A (Settembre 2021)
Dir. Nikolaus Selimov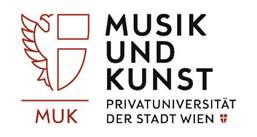 SUMMER STAGE c/o Pôle National Supérieur de Danse Rosella Hightower/Cannes-Mougins/F
(6-12 Luglio, 15-21 Luglio, 20-26 Agosto 2021)
Dir. Paola Cantalupo


MN Summer Dance Program / Nova Gorica / SLO
(dal 19 Luglio all'8 Agosto 2021)
Dir. Nastja Bremec e Michal Rynia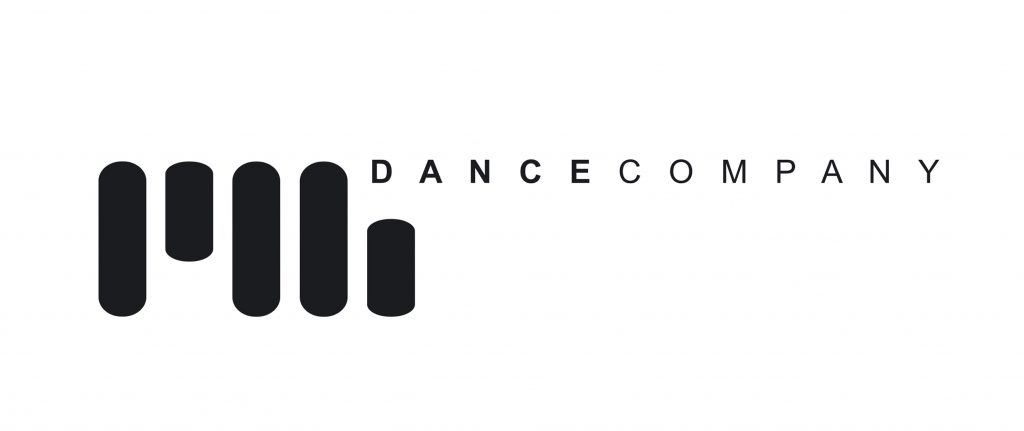 RESIDENZE ARTISTICHE
COMPAGNIA EN-KNAP / LJUBLJANA / SLO
Date da concordare con la direzione
Dir. Iztok Kovač

COMPAGNIE LINGA
L'OCTOGONE THEATRE DE PULLY / PULLY / CH
Date da concordare con la direzione
Dir. Katarzyna Gdaniec e Marco Cantalupo


AGORA COACHING PROJECT / REGGIO EMILIA / I
Date da concordare con la direzione
Dir. Michele Merola ed Enrico Morelli


AREAREA COMPAGNIA DI DANZA – UDINE / I
Date da concordare con la direzione
Dir. Roberto Cocconi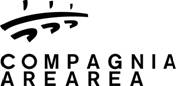 ---
ADEB – ASSOCIAZIONE DANZA E BALLETTO
WHAT WE ARE
– 2020 edition postponed to 2021 – 
INTERNATIONAL DANCE FESTIVAL
CHOREOGRAPHIC PLATFORM for authors and performers
FOR SOLO / DUO / TRIO 
PARTICIPATION FREE OF CHARGE after selecting candidates
Artistic Direction: Elisabetta Ceron and Massimo Gerardi
CHOREOGRAPHIC PRIZE, FESTIVAL PARTICIPATION, SCHOLARSHIPS and COMPANY SHADOWING at COMPANIES and INTERNATIONAL PROFESSIONAL INSTITUTIONS
Application DEADLINE is 28th FEBRUARY 2021
submit to:
adeb@adebudine.it   and   m.gerardi@adebudine.it
THE CHOREOGRAPHIES SELECTED FOR THE FINAL PHASE WILL TAKE PLACE ON A DATE TO BE DEFINED AT THE SAN GIORGIO THEATRE IN UDINE.
IF THE CURRENT HEALTH EMERGENCY CONTINUES, THE FINAL PHASE WILL BE MANAGED ONLINE IN A WAY TO BE ANNOUNCED.
Partners of the prestigious initiative Companies, Festivals, European Universities and Professional Dance Training Centers that provide a choreographic prize, artistic artist residencies, summer and winter scholarships offered by our partner institutions (see below)!
PARTNER INSTITUTIONS
– Tanzcompagnie Gießen-Stadttheater/Gießen/D
– International dance company EnKnapGroup/Lubiana/SLO
– Musik und Kunst Privatuniversität/Dance Department/Vienna/A
– Pôle National Supérieur de Danse Rosella Hightower/Cannes-Mougins/F
– Compagnie Linga Theatre Octogone /Pully/CH
– Compagnie EN-KNAP/Ljubljana/SLO
– MN Dance Company/Nova Gorica/SLO
– Gala di Stelle Danzanti Anfiteatro Fonte Mazzola /Peccioli /I
– Civica Accademia d'Arte Drammatica Nico Pepe/Udine/I
– Agora Coaching Project/Reggio-Emilia/I
– Arearea Dance Company/Udine/I